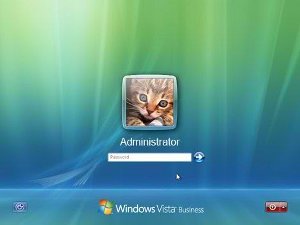 In Windows Vista there is a difference between accounts with "computer administrator" privileges and the Administrator account. In the Administrator account the User Account Control is disabled. Also by default, the Administrator account is present, but hidden and disabled.
Here are the detailed tutorials that will teach you how to enable the Windows Vista Administrator Account.
Start by booting your computer to Vista in your computer administrator account Next open administrative tools in the control panel. Double click the computer management item to open it.
You then authorize user accounts control by clicking the continue button.

Double click on "local users and groups", this will open it.
Click the user's folder.
Select the administrator icon.
Right click it to open its content menu.
Choose properties.
Remove the check mark from the "account is disabled" box.
Click OK.
Restart your computer.

Once your computer has restarted, open the administrative tools control panel.
In the Users area, disable any other enabled accounts with computer administrator privileges.

Look for account icons that do not have the red disable mark.
Click to place a check mark on these account icons.

Next you open Properties.

Click to add a check mark in the box labeled "Account Is Disabled."

Check to see that your Administrator account is enabled.
You can now close Computer Management and restart Windows.
When vista reboots the administrator account will be loaded automatically.
Be advised that this method is for temporary use only, for security reasons. You should never leave your Administrator account enabled without a password.
Your Windows Vista Administrator account has now been enabled.
By the way, have ever encountered the trouble that you lost or
forgot Windows password
on Vista for the admin account? How to deal with if the admin account has been disabled? Well, as this, it is a good chioce to
reset Windows password
with a third party software, such as Ophcrack, Kon-Boot or
Windows Password Unlocker
. They are all portable and efficient to reset the forgotten Windows Vista admin password quickly.